Master Series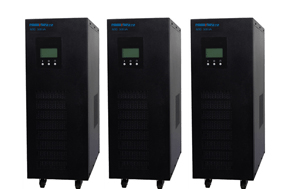 Master UPS offers three phase power protection with capacity of 6KVA-50kVA. The design of online double conversion topological structure guarantees wave output. Master UPS feature powerful anti-jamming capability. The AC/DC input equips with harmonic suppressor and the DC/AC converter equips with IGBT power module and output isolation transformer. Complete circuit protection improved stability and reliability. ABM technology maximizes battery performance and reliability through smart and precise charging. Clients may check the operating status and historical data of UPS on PC via R232 at any time. Unattended and remote control management are available by SNMP and related software. It is ideal for data processing centers, server systems, communications systems and sophisticated equipment in telecommunications, finance, securities, insurance, taxation, transportation, medical, business and other fields. Master UPS is your best choice.
·Features
■Advanced microprocessor control technology fully improved availability and reliability of the system;
■Advanced EMI technology eliminated the electromagnetic interference to equipments;
■Provide stable power even lacks one phase;
■Wide input voltage extended the battery life and wide input frequency range ensures the compatible with generator;
■Intelligent unattended technology;
■Self-diagnosis when start up, reducing the potential risks to cause UPS failure;
■Cold start function provides temporary battery power when the utility power is out;
■Automatic protection of over charge, over discharge, under-voltage and over load;
■Direct management of system from PC via RS232 and related software;
■LCD display with friendly UI shows modes of operation, system parameters and alarms in text and mimics diagrams;
·Technical Specifications
Inverter/Bypass
Transit Time
voltage change≤4%(100% loads throw or cut out)
Power Supply /
Inverter Transit Time
Inverter/Bypass
Transfer Time
Sealed maintenance free lead acid battery
Display operation state of UPS, input, output voltage, output; input frequency; the battery voltage; output power (%); inverter temperature
light up when battery voltage is low
instructions: electric model; battery model; inverter power supply; bypass; UPS anomaly
1. UPS monitoring and management; 2. Remote control the UPS; 3. Record data;4. Voice alarm;5. detection of UPS running state;6. implementation of UPS self diagnosis;7. automatic archives。
the standard RS232 interface, optional SNMP card
buzzer call once in every 4 seconds
buzzer call once every 4 seconds, city power mode indicator flashing
buzzer call once every 4 seconds, battery mode indicator flashing, low voltage light up
overload indicator light up, the buzzer sounding
failure indicator light up, the buzzer sounding
The output of the nominal power (1000 meters 100 meters higher lower -1%) maximum 4000 meters
<58dB (1 meters distance box)
Low battery shutdown, power recovery automatic restart, circuit breaker protection
10~100KHz at 40Db,100KHz~100MHz at 70Db
overload(120%~150%) 60s then switch to bypass, load normal after recovery
UPS internal temperature >85℃switch to bypass
Current limiting, automatic shutdown, circuit breaker protection
automatic switch to bypass, power by the main power
GB7260.2,EN62040-2,GB/T17626.2~5
Products shall be subject to any changes without additional notices. The pictures are for reference only. Please adhere to the original products in case of any mistake!