Spower Series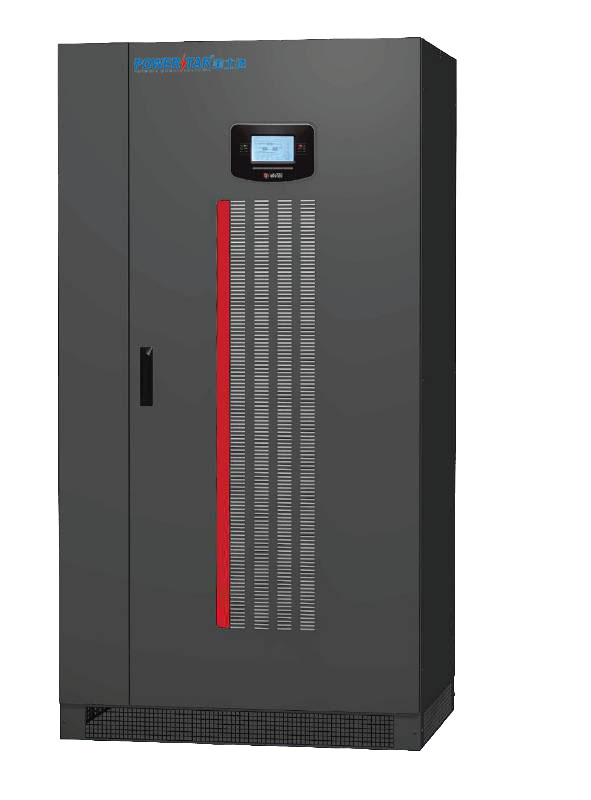 ·Description
SPower UPS offers three phases power protection for large and medium key systems of 100KVA-300KVA. The double conversion online technology, the advanced IGBT power modules, invertering with SPWM and intelligent multi-mode battery management guarantee the stable pure sine wave output and 4 sets working in parallel. Clients may check operating status and historical data of UPS on PC via R232. Unattended and remote control management are available by SNMP and related software. Spower provide reliable protection for data processing centers, server systems, communications systems, and sophisticated equipment in telecommunications, finance, securities, insurance, taxation, transportation, medical, business and other fields. With the increased performance and reliability, SPower UPS is your best choice.
·Features
■The design of online double conversion topological structure provides best power;
■Standard isolation transformer;
■Powerful overload performance, maintain 600/10/1min when overload at 110%/125%/150%;
■Dual DSP control technology based on digitalization improved availability and reliability;
■IGBT technology ensures THD <5%;
■Manual maintenance bypass ensured high reliability and low maintenance;
■Parallel capacity increases total power capacity by using multiple UPSs simultaneously;
■Parallel redundant provides power to connected equipment with multiple UPSs to increase system redundancy;
■Smart fan speed control;
■Advanced ABM technology maximizes battery performance, life, and reliability through smart and precise charging;
■LCD displays real-time status accurately;
■Remote control and sending text messages and emails on internet/intranet through SNMP card and related software on Windows2000/NT/XP/VISTA/7, Unix, Linux;
·Technical Specifications
380V±20% (Three phase and four wire)
50/60Hz automatic recognition
±2% (Optional±1%~±5% Front panel Settings)
1.statics+ service bypass by hand;2.feedback guard;3. independent bypass
±15% (Optional±10%~±25% front panel settings)
50/60 Hz (automatic recognition)
±2% (Optional±1%~±5% front panel settings)
50/60Hz(automatic recognition)
±0.5,±1,±1.5,±2Hz adjustable
200~244 V (control panel)
Linear load <1%;Nonlinear load <3%
Battery mode frequency stability
115%/125%/150% overload can keep 60minute/10 minute /1 minute
Sealed maintenance free lead acid battery
Static ± 1%; transient 5% ± (0~100% step load)
Steady state response time
In 20 milliseconds, restored to ± 1% output voltage steady state value
With balanced load in 120 °± 1 °; with 100% unbalanced load in 120 °± 1 °
With balanced load ± 1%; unbalanced load 100% ± 2%
0~95%non-condensing humidity
Normal when <1000m; 1% off every another 100m; Max 4000m
Double RS232 remote interface + 2 communication interface slot
1. Harmonic suppression filter; 2. Eight sets parallel module; 3. Input isolation transformer; 4. SNMP adapter
Products shall be subject to any changes without additional notices. The pictures are for reference only. Please adhere to the original products in case of any mistake!