DBW Series Single-phase High-power Automatic Compensating Stabilized Voltage Supply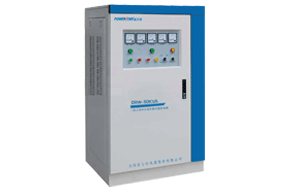 ·Description
DBW Series single-phase high-power automatic compensating stabilized power supply is an energy-saving type that is developed by our company, combining imported technologies and domestic status quo.. When the external voltage fluctuates or the loads' changes, it can automatically maintain a stable output voltage. This series have the advantages of traditional electronic communication type, induction type and magnetic saturation type regulator, and overcome the disadvantages of traditional regulator's small capacity, big loss, and big waveform distortion. It has large capacity, high efficiency, no waveform distortion, stable voltage adjusting, easy maintenance and high reliability.
·Application fields
It is ideal for the computers, precision machine tools, computerized tomography (CT), precise instruments, elevator lighting, and experimental facilities in industrial and mining enterprises, construction, education, health care, scientific research, railway, transport, oil industry, post and telecommunications and hotels
·Features
■Random switching of main power voltage regulation;
■High precision voltage regulation, no output waveform distortion;
■The intelligent automatic power distribution guarantees the unattended watching (optional);
■Compatible with any loads (resistive, condensive, and inductive) for long and continuous use;
■Overload protection, short circuit protection, output over voltage protection, short phase and wrong phase automatic protection;
■Non-segmented voltage adjustment, voltage lifts in linearity mode, and output voltage is continuous and adjustable;;
■Wide voltage regulation range, precise adjustment, big capacity, high efficiency and non-additional distortion of the output waveform, compatible with all kinds of loads;
■The regulator consists of the compensating circuit, voltage testing circuit, servomotor control circuit, decelerate transmission, protection circuit and other circuits;
■The direct mode and voltage mode are switchable; the direct mode connects the state grid with the loads directly for periodical maintenance without interrupting the loads;
·Technical Specifications
<1.5s(main power change<10%)
Power Transmission Protection
Random switching between the automatic power transmission and the manual power transmission (optional)
Manual/automatic control mode
Compatible for any loads (resistive, condensive or inductive) and run a long-term continuous use

Products shall be subject to any changes without additional notices. The pictures are for reference only. Please adhere to the original products in case of any mistake!