Power Box PVS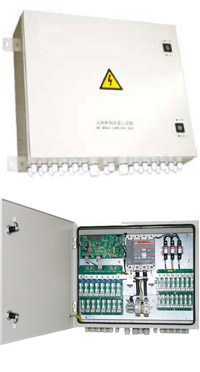 PowerBox PVS series is specially designed for large-scale photovoltaic power plants. It reduces the wires connecting photovoltaic components and inverters which makes it
easy for maintenance and improves reliability. Together with our related inverters, they can provide a complete solution for photovoltaic system. A certain number of photovoltaic components with the same specifications can work in parallel, according to the input DC voltage range of inverters. Then put them in the box to convergence and output after the SPD and circuit breakers, which makes the later inverters access easier, ensures the safety of the system, and greatly reduces the installation time.
Features
■Patented design;
■Greatly simplify system wiring;
■Meet the outdoor installation requirements;
■Wide range of input DC voltage, open circuit voltage up to 1000V;
■PV-specific DC fuses;
■PV-specific SPD;
■Quick and easy maintenance;
■Can be customized to modify according to user needs
(volume, input, DC fuses, etc.);
Maximum optics volt array voltage
Maximum optics volt array the multiple connection input method
Pr.the road fuse rating current(can replace)
Output terminal dimension
The d.c always outputs for nothing to open
PV special lightning protection module
Serial current monitoring
Lightning protection device failure monitoring
Notice: Products shall be subject to any changes without additional notices. The pictures are for reference only. Please adhere to the original products in case of any mistake!