Power Info Design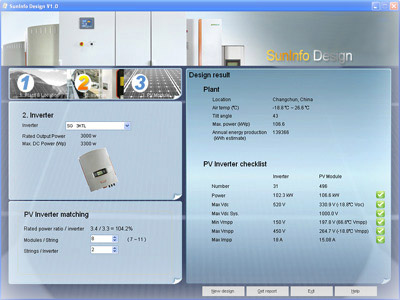 Power Info Design is professional designed software for photovoltaic system. The Design is easy-operation. Only by several clicks and some necessary parameters input, the software will automatically select
the most suitable sunlight inverter and provide a detailed solution. Power Info Design will be your best assistant for design of photovoltaic generation system.
Features
■Simple operation and friendly interface;
■Optional configuration of photovoltaic components;
■Optional configuration of location and weather;
■Automatic design report;
Technique parameter
Minimum Hardware requirements
According to the Customer's requirements
Notice: Products shall be subject to any changes without additional notices. The pictures are for reference only. Please adhere to the original products in case of any mistake!