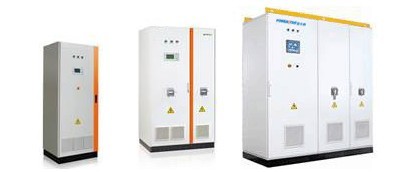 ·Description
PV inverter is the key equipment of photovoltaic power plant. The reliability,efficiency and safety of the PV inverter can directly affect the entire system, the power generation and the stable operation of the power plant. Plant SP series is designed for large and medium photovoltaic power plants. It is ideal for solar generation in communication, telecommunication, petroleum, oceanography, meteorology, and so on. It adopts low-frequency isolation transformer, with capacity from 50-250K. Multiple inverters can be run in parallel, simplifying power plant design. It can run continuously with full load at +55℃. The adoption of optical isolation improves the anti-interference ability. Optimized design of circuit and structure improve the thermal efficiency and the stability.It is your best choice.
Areas of Application: Transportation, telecommunication, petroleum, oceanography, meteorology and so on.
·Features
■Precise output power measurement;
■Able to work in harsh power environments;
■Able to run at high altitudes <6000m (derating required when over 3000m);
■Auxiliary electric heating (optional);
■Germany Rittal cabinets;
■Intelligence power module,easy to installation and maintenance;
■Efficient isolation transformer,maximum conversion efficiency of 100K,250K can be 97.0% and 97.3%;
■Excellent protection and high reliability;
■LCD display with multi-languages and configuration of various parameters;
■EU CE certification, Italian DK5940certification,Golden Sun certification;
■The reactive power is adjustable from -0.95 to +0.95;
■RS485/Ethernet/GPRS telecommunication ports and monitoring software;
■Over voltage protection,short circuit protection, islanding protection,overheat protection,over load protection and DC ground fault protection;
■Meet the standards of EN61000-6-1, EN61000-6-2, EN61000-6-3, EN61000-6-4, EN61000-3-2, EN61000-3-3, EN60164-1-1, EN55022,and EN50178;
·Technique Parameter
Recommended PV Array Open Circuit Voltage
MAX Power Point Tracker large ones / Each tracker can access group number of strings
All Current Waveform distortion
<0.5% (Rated Output Current)
96.3%(including transformer)
97.0%(including transformer)
97.3%(including transformer)
95.3%(including transformer)
96.4%(including transformer)
96.7%(including transformer)
Power Consumption at Night
Permissible ambient temperature
6000M(over 3000mNeed to drop the amount of use)
Display and Communication

Products shall be subject to any changes without additional notices. The pictures are for reference only. Please adhere to the original products in case of any mistake!