Maintenance-free gel Battery-12VNPJ Series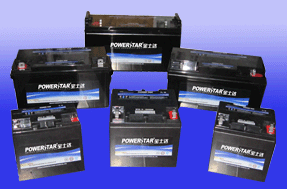 ·Description
Powerstar gel battery adopts the high porosity PVC-SiO2 separators provide by world famous manufacturers and world leading silicon gel technology.
·Application area
Alarm system,emergency lighting system, office automation system,portable electronic device and mining system,electronic device, railway,shipping, post and telecommunications, electronic system, solar energy, wind power generation system,large scale UPS and emergency power supply,lfire protection back up supply and peak load compensation energy storage devices
·Features
■Long life of battery's floating charge;
■Unique rapid discharge protection (DIN43534-T.5 compliant);
■Gel electrolyte guarantees the balanced and stable discharge performance, and also the wide range of compatible temperature;
■Small self-discharge;
■Lead- calcium-tin alloy ensure the stability of the plate, also maximally inhibit generation of gas;
■Safety valve with unique design offers the highest quality;
■Sealed design can maximally reduce the generation;
■The design of fire-retardant;
■According to IATA terms: there is no limit for air, rail and road transports;
·Technical Specifications

Products shall be subject to any changes without additional notices. The pictures are for reference only. Please adhere to the original products in case of any mistake!