Maintenance-free Lead-acid Battery-2VGM Series

·Description:
Powerstar valve-regulated seal maintenance-free lead-acid battery is the product of hard work and ingenuity,of Powerstar, the GM series battery is specially designed for Global market. Its high quality and remarkable performance are widely received by the users. Its high-energy density, fully sealed structure, long service time and high reliablity offers greater conwenience to the users
·Application area
Alarm system,emergency lighting system, electronic device, railway,shipping, post and telecommunications, electronic system, solar energy, wind power generation system,large scale UPS and emergency power supply,lfire protection back up supply and peak load compensation energy storage devices.
·Features
■Maintenance-free and do not need fluid replacement;
■Wide range of compatible temperature (-35~45℃);
■Safety with explosion-proof;
■No dissociated electrolyte, it can still work when 90 degrees side-down;
■Small internal resistance, high current discharge characteristics;
■Small self-discharge;
■Already charged from factory, convenient to use;
■Unique formula, good recovery from deep discharge;
■Long lifetime up to 15 years (15-25℃);
·Technical Specifications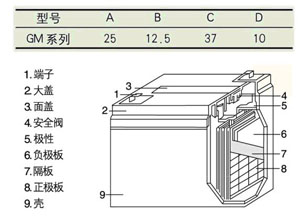 Terminal shape

Technical parameters
Products shall be subject to any changes without additional notices. The pictures are for reference only. Please adhere to the original products in case of any mistake!